Check-in is 1:00 p.m. daily.
Check-out is 11:00 a.m.
Alcoholic beverages MUST be kept at YOUR campsite.
Speed Limit – 5 MPH ENFORCED
All visitors must register upon entering campground. Please advise your guests ahead of time. Only two vehicles allowed per site.
Do not move fire rings.
Do not tie anything to trees. No clotheslines allowed.
Pets are welcome but must be kept on a leash at all times. No pets in buildings. DO NOT leave pets at camp unattended. Clean up after your pet.
No fireworks, firearms or any type of explosives are permitted on the grounds.
Sewer connectors or donuts required.
Do not move from one campsite to another without permission.
Office hours will be posted.
Quiet hours are from 11:00 p.m. until 8:00 a.m.
CAMPERS are responsible for the behavior and safety of children. Children under age 10 must have adults with them in restrooms. Management assumes no responsibility for actions or safety of guests or lost or stolen items.
Bike or motorcycle riding at your own risk, not to exceed 5 MPH
Washing of campers not permitted.
No refunds.
Caution: Please use safety when entering campsite. Damaged waterlines or property are the responsibility of the camper.
Please put trash in cans.

Read more: http://www.creeksidervpark.com/index.php/camp-sites#ixzz1yockw3AU
Under Creative Commons License: Attribution Non-Commercial No Derivatives

Creekside RV Park Directions (Click The Map)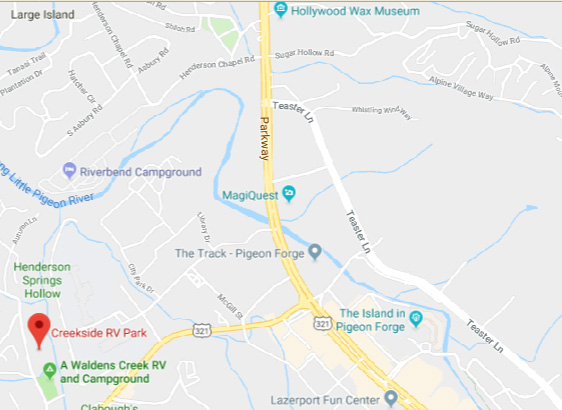 For Assistance: (800) 498-4801